Invitation to a book launch and a discussion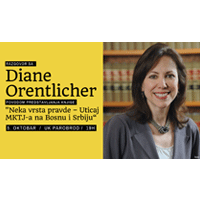 On October 5th, on the occasion of the presentation of her new research published in the book "Some Kind of Justice – The ICTY's Impact in Bosnia and Serbia", the Humanitarian Law Center will host professor Diane Orentlicher.
Diane Orentlicher, Professor of International Law at American University, has been described by the Washington Diplomat as "one of the world's leading authorities on human rights law and war crimes tribunals." She has lectured and published widely on issues of transitional justice, international criminal law. Professor Orentlicher has served in various public positions, including as the Deputy for War Crimes Issues in the U.S. Department of State; United Nations Independent Expert on Combating Impunity, and Special Advisor to the High Commissioner on National Minorities of the Organization for Security and Co-operation in Europe.
In her new book, Professor Orentlicher offers a groundbreaking and timely account of how an international criminal tribunal affects local communities and the factors that account for its changing impact over time. Through an in-depth case study, "Some Kind of Justice" offers fresh insights about two questions now the subject of robust debate: What goals can we plausibly assign to international criminal tribunals? What factors determine the impact of distant courts on societies that have seen vicious violence? The book explores the influence of the International Criminal Tribunal for the former Yugoslavia, launched in 1993 by the UN Security Council at the height of ethnic conflict accompanying the breakup of Yugoslavia, in two countries directly affected by its work. One, Bosnia-Herzegovina, experienced soaring levels of ethnic violence, culminating in the 1995 genocide in Srebrenica. The wartime government of the other country, Serbia, plunged the region into conflict. Scheduled to close at the end of 2017, the ICTY is the longest-running war crimes tribunal in history, and thus offers an incomparably rich case study of how a Nuremberg-inspired tribunal influences societies emerging from ruinous violence.
This will be an opportunity to discuss how the ICTY also impacted other post-Yugoslav states. Our interlocutors will include:
Hrvoje Klasić, Historian, University of Zagreb, Croatia
Erna Mačkić, BIRN, BH
Adriatik Kelmendi, journalist, Kosovo
Nemanja Stjepanović, journalist, Serbia
The book presentation and a debate will take place on October 5th 2018, at the Cultural Center "Parobrod", starting at 7 p.m.