Circumventing Justice The Statute of Limitations as a Mechanism for Denying War Victims the Right to Compensation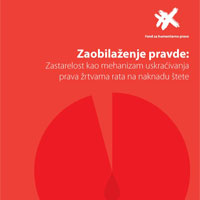 The Republic of Serbia participated in all the armed conflicts that took place in the territory of the former Yugoslavia during the last decade of the twentieth century. A large number of people died, or disappeared, or became refugees, and very many suffered enormous material and non-pecuniary damage as a result of these conflicts.
The obligation of the Republic of Serbia to provide just compensation to victims of human rights violations arises not only from the substantial provisions of the Serbian Constitution and domestic regulations but also from the international conventions that Serbia has ratified.
In spite of the existence of clear provisions of both domestic and international law and the well-established case-law of international bodies, victims in Serbia find it virtually impossible to enforce their right to reparations before the domestic courts. The difficulties victims face in the process are varied. The standard of proof is set too high, court proceedings drag on for several years, courts do not believe the victims and their evidence, to name just a few. Provisions governing statutory-limitation periods for filing compensation claims – or rather, the way Serbian judges interpret them, is one of the major obstacles faced by victims.
The report Circumventing Justice: The Statute of Limitations as a Mechanism for Denying War Victims the Right to Compensation points out the marked tendency of the domestic judiciary to interpret statute of limitations rules in a manner that leads to the denial of the right to compensation for the victims of gross violations of human rights, by ruling their right to compensation time-barred. Such an arbitrary application of the statute of limitations for bringing compensation claims works against the interests of the victims and amounts to a grave violation of the right to a fair trial guaranteed by both domestic and international regulations.