Transitional justice mechanisms in Serbia in the context of democratic reforms and Serbia's EU accession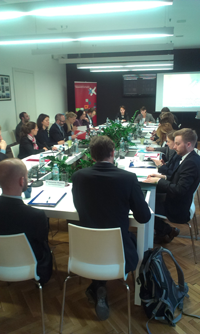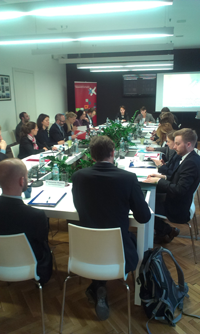 A briefing discussion regarding the significance of including transitional justice issues into the process of the European integration of the Republic of Serbia was held on January 23rd, 2015 in the Humanitarian Law Center (HLC) library. Representatives of the embassies of the European Union (EU) member states and Switzerland, Kosovo's liaison officer, representatives of the EU Delegation and the OSCE Mission to Serbia, Civil Rights Defenders and National Democratic Institute organizations participated in this meeting.
The Executive Director of the HLC, Sandra Orlović, and the Legal Director, Milica Kostić, presented the key problems relating to the harmonization of the national legislation with the EU acquis in the area of establishing criminal responsibility for crimes committed, respect for the rights of victims of war crimes and other violations of human rights, and institutional reforms, to the participants in the discussion. They also pointed to the standards, principles and regulations used by the EU to support initiatives aimed at the resolution of the legacy of the violent past in its relations with other, non-EU countries.
This meeting was the first in a series of meetings with representatives of the EU, EU member states, and other relevant actors, as part of the HLC's endeavours to ensure that the establishment of adequate transitional justice mechanisms and their application are part of the negotiation content in Chapter 23 of the EU accession negotiations with Serbia relating to judiciary and fundamental rights.