Students of the Regional School of Transitional Justice Visit Memorial Sites in Croatia and Bosnia and Herzegovina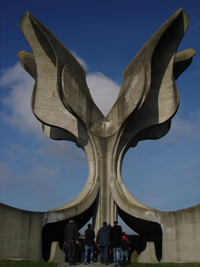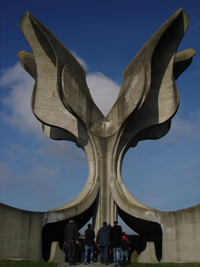 A two-day visit to memorial sites in Bosnia and Herzegovina and Croatia was organized as part of the study programme of the Regional School of Transitional Justice. Twenty-five students of the third generation of the Regional School of Transitional Justice visited the memorial monument and memorial museum in Jasenovac, Croatia, first, after which they visited Prijedor, Vukovar and Sotin, sites where mass crimes happened during the wars of the 1990s.
Besides visiting the crime scenes and memorial sites, the students met with representatives of the victims' associations in Prijedor and Sotin. Sudbin Musić from the Prijedor 92 Association of Concentration Camp Detainees took the group of students on a tour around the facilities used as concentration camps, where non-Serb civilians had been detained during the war in Bosnia and Herzegovina. Today, these facilities are not marked as crime sites, whereas in the vicinity of the former Trnopolje camp, a monument has been erected to honour the fallen soldiers of the Republic of Srpska. In the Kvart Youth Centre, a peace-building non-governmental organization which is active in the field of dealing with the past through art and the establishment of a culture of remembrance, the students had a meeting with the organization's Co-ordinator, Goran Zorić, with whom they discussed the denial of the past and the prevailing nationalist discourse which exists in Prijedor and throughout Bosnia and Herzegovina. '
The students of the Regional School also visited the Ovčara Memorial House near Vukovar. In Sotin, a village near Vukovar in which 64 citizens disappeared or were killed in the fall and winter of 1991, students met with representatives of victims' families who have undertaken their own private investigation, which is a unique procedure in many aspects. This informal association has gathered enough evidence for filing an indictment against persons who participated in this crime, although working completely on their own and without any support from the institutions. These indicted persons are now subject to the procedure conducted by the Office of the War Crimes Prosecutor in Belgrade. In the discussion with the students, Igor Matijašević and Dragica Urukalović directly described the difficulties and challenges that they have to deal with on a daily basis in the search for the truth about the fate of their family members and other citizens of Sotin.
The student Vesë Kelmendi, from Kosovo, recognized the denial and manipulation of events from the past, as well as the injustice that the victims in Prijedor and Vukovar have to suffer every day, "One of the topics that made a huge impact on me was the history of Jasenovac, which was difficult and which is unfortunately left out of our history books. At the same time, the visits to Prijedor and Vukovar have given me an opportunity to recognize the injustice here too, and realize that there are victims' families who are still exposed to this injustice. "