HLC – Kosovo presents data on the missing and killed in Gračanica/Graçanicë
On 29 January 2010 the Humanitarian Law Center (HLC) and the Humanitarian Law Center – Kosovo (HLC-Kosovo) held a public presentation of the interim results of the record of killed and missing Serbs, Roma, Montenegrins, Bosniaks and other non-Albanians in Kosovo in Kosovo in the period from January 1998 until December 2000. The presentation took place in the in the Gračanica/Graçanicë Cultural Center and was attended by around 100 family members of the victims, representatives of associations of victims, representatives of the International Commission for Missing Persons (ICMP), Office of UN High Commissioner for Human Rights (UNHCHR), and the media.
In her opening words Prof. Dr. Rada Trajković welcomed everyone and thanked HLC for its work in terms of fighting for justice for all victims in the former Yugoslavia. She pointed out: "All we want is the war chapter of our shared history and our individual painful history to be closed so that it should never happen again. But we all also know that that cannot happen until the perpetrators of crimes are identified and punished, and until the truth is known about all the kidnapped and disappeared. We must be able to look around, and see that our neighbours, acquaintances or colleagues who during the war were on the opposite side are truly our neighbours, friends and colleagues rather than a potential suspect for an ethnically motivated crime. Only when we are ready to do this will our society recover and justice finally be done."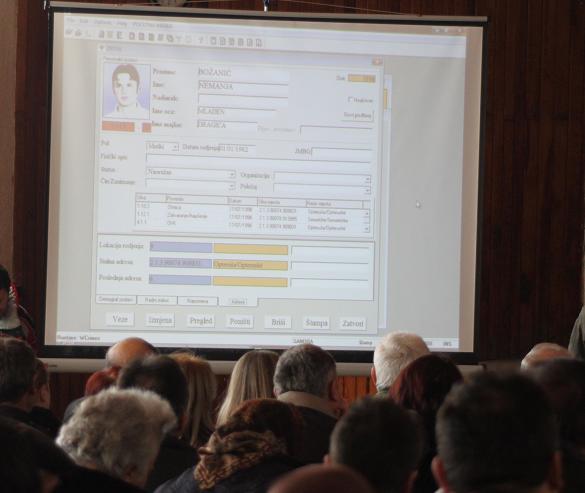 Natasa Kandic, HLC Executive Director, said that the record that HLC has been working on should be seen as evidence and a warning so that what happened shall never happen again. Also, she said that in the future it will be very important to know the results of the record of victims in all communities in Kosovo and Serbia.
Velibor Ađančić from the office of the Association of Kidnapped and Missing Persons from Kosovo and Metohija in Gračanica/Graçanicë, thanked the families who came to the presentation. He said that in the name of HLC's record should be the word "kidnapped" because many people know who the kidnappers are. He also said that the association that he represents began to cooperate with Albanian associations to pressure jointly the Serbian and Kosovo governments.
After the introductory words, Sandra Orlović, The Coordinator of the record of victims, presented the interim results of the record of killed and missing Serbs, Roma, Montenegrins, Bosnians and Roma in Kosovo in the period 1998-2000.
After the presentation, members of the families of the victims checked the information about their loved ones in the HLC's database. They also gave HLC dozens of photos and documents.