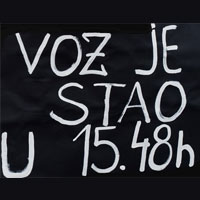 Crime in Štrpci – 26 years, no justice for victims
On Wednesday, February 27, 2019, it will be 26 years since the crime in Štrpci, when members of the Republika Srpska Army (VRS), gathered at the railway station in Štrpci (Bosnia and Herzegovina), abducted 20 passengers from a train operating on the Belgrade-Bar route, and then killed them. They were all non-Serb civilians. The Humanitarian Law Center (HLC), Women in Black, the Sandžak Committee for the Protection of Human Rights and Freedoms, and the Youth Initiative for Human Rights in Serbia, would like to remind the public that the families of these victims have been waiting 26 years for justice from the courts in Serbia, and for recognition of their status as families of civilian victims of war.
The victims of this crime were: Esad Kapetanović, Ilijaz Ličin, Fehim Bakija, Šećo Softić, Rifat Husović, Halil Zupčević, Senad Đečević, Jusuf Rastoder, Ismet Babačić, Tomo Buzov, Adem Alomerović, Muhedin Hanić, Safet Preljević, Džafer Topuzović, Rasim Ćorić, Fikret Memović, Fevzija Zeković, Nijazim Kajević, Zvjezdan Zuličić and one unidentified person.