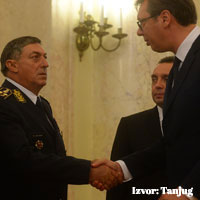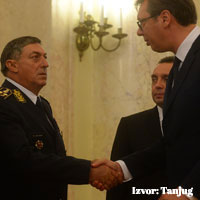 After Serbian President Aleksandar Vučić has accepted a request for retirement by the Chief of General Staff of the Serbian Armed Forces, Ljubiša Diković, on Friday, September 14, 2018, the Humanitarian Law Center (HLC) reaffirms its belief that Diković should have been replaced earlier, since the HLC submitted serious allegations that the 37th Motorized Brigade of the Yugoslav Army (37th Mtbr VJ), commanded by Diković during the Kosovo conflict, killed about 1,400 Albanian civilians, while thousands of others were expelled. Only two days after the HLC published its Dossier "The Ljubiša Diković File", the War Crimes Prosecutor's Office (OWCP) informed the public that it had investigated the HLC's allegations and found no basis for accusations of Diković's criminal responsibility. Since it was not realistic that the findings from the Dossier could have been be investigated in just two days, the HLC demanded from the OWCP that it proceed with a comprehensive investigation into the allegations regarding Diković's responsibility for the said crimes.
The HLC has described the operations of the 37th Mtbr in two Dossiers – " Ljubiša Diković" and "Rudnica", in which evidence was provided concerning the killing, rape, robbery and expulsion of Albanian civilians in 10 different locations (Staro Čikatovo, Ćirez, Baks, Izbica, Šavarine, Vrbovac, Donja Sudimlja, Rezala, Donji Zabelj, Gladno Selo) – crimes that were committed during the Kosovo conflict. To this day, the OWCP has not filed an indictment for any of these crimes, and the HLC has no data on whether the OWCP has initiated investigations into these crimes.
Awarding him the Order of Karađorđe's Star – 1st class, while also bearing in mind the claims of the President of Serbia that Diković was an honourable and committed officer, and his always taking Diković's side when "they falsely accused him and wanted to put a seal of shame on his forehead", represents an insult to all victims of the conflict in Kosovo, and a slight to their sufferings. The intention was to reduce the extent of the crimes committed, which were confirmed in the two judgments of the International Criminal Tribunal for the former Yugoslavia (the Šainović and al. and Vlastimir Djordjević Cases).
The HLC points out that the OWCP's obligation is to investigate all allegations of potential perpetrators of war crimes, and that Ljubiša Diković, as the former commander of the unit that participated in the conflict in Kosovo, must in no way be an exception to that OWCP obligation.