"Depth Two" Film Screenings in Niš, Čačak and Priština/Prishtine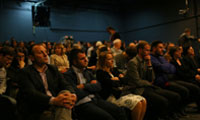 The documentary by Ognjen Glavonić, "Depth Two", was screened during April in Niš, Čačak and Priština/Prishtine. Following the screenings in all of these cities, a debate about the legacy and responsibility for the crimes committed was organized. Besides the spectators, the director and the film crew, other film and theatre artists from Serbia and Kosovo also participated in these discussions.
The Film and the ensuing debates drew the attention of a great number of citizens of Serbia and Kosovo. The screening in Priština/Prishtine was attended by more than 150 spectators, including a great number of the victims and victims' family members that the Film is about. During the debate, they expressed gratitude to the authors of the Film because they had secured a permanent memory of the perishment of Albanian civilians during the armed conflict in Kosovo.
The prevailing assessment of spectators is that the Film offers a different kind of insight into the crimes, the sufferings of the victims and survivors, and the attitudes of the individuals who were involved in these crimes regarding their own responsibility for them.
The premiere in Belgrade will be organized at the Beldocs Festival on May 13th,at the Hall of the Belgrade Cultural Centre.
"Depth Two" is a documentary which tries, by using a combination of testimonies and footages made at the scene of the crimes, to present the events in which a great number of people, Albanian civilians, were killed 17 years ago, after which their bodies were concealed for a long time from the public and from the victims' families.
"Depth Two" was produced by Non-Aligned Films and the Humanitarian Law Center. It was premiered at the 66th Berlin Film Festival held in February 2016.