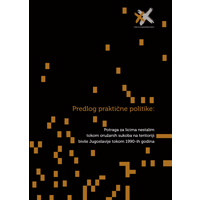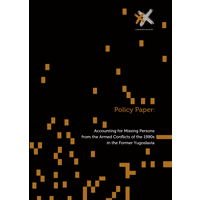 The wars fought in the former Yugoslavia during the 1990s have left dire long-term consequences that the successor states of the former Yugoslavia will have to deal with for years to come. These states have yet to meet the challenge of dealing with systematic violations of human rights and of building democratic institutions, tasks that cannot be accomplished without taking a responsible approach towards dealing with the violent past. Such an approach is impossible without establishing the fate of the persons who are still unaccounted for as a result of the past armed conflicts.
The countries of the region still owe it to the families of 10,315 missing persons to conduct a thorough and impartial investigation into the circumstances surrounding the killing or disappearance of their loved ones, and to punish those found responsible in a manner proportionate to the gravity of their crimes. Serbia's legislative framework does not recognise the families of missing persons as civilian victims of war, as a result of which the domestic reparation system is flawed and discriminatory.
The search for missing persons is a difficult process which is dependent on the political situation in a given state in the region. Although there is a need to know the truth regarding the fate and whereabouts of persons gone missing during the armed conflicts – a need which is expressed primarily by their family members and included sporadically on the meeting agendas of statesmen in the region – in reality, the search process is hampered by many factors, such as the insufficient capacities and inadequate financial resources of the government bodies involved in tracing missing persons, and the absence of political will and of determination to enhance regional cooperation in order to make the search process more efficient and effective.
This policy paper provides an overview of the results achieved so far in addressing the missing person issue, identifies the challenges in the search for persons disappeared during the armed conflicts in the former Yugoslavia of the 1990s, and proposes a set of recommendations which may help make the search process more efficient.
Policy Paper: Accounting for Missing Persons from the Armed Conflicts of the 1990s in the Former Yugoslavia available here.